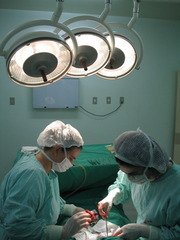 In 2009 the Mayo Clinic's cardiac surgeons asked for two more operating rooms to meet growing demand for open-heart surgery, according to a June 2017 story in the Wall Street Journal (subscription required)
"No" – replied the Mayo Clinic's CEO.
Then he asked them to redesign every aspect of heart surgery to find at least 20% in cost cuts.
Externally, he saw a perfect storm of reduced revenue and increased costs driven by an aging population. Internally – responding to the CEO's mandate – his chief of cardiovascular surgery found disparities of up to 2X in average cost per operation (from $55,000 to $110,000) — "too much variability".
This sparked changes in surgeon scheduling, new physician-developed protocols that empowered nurses to streamline post-operative care, and a 50% reduction in average operating room turnover times between surgeries. The clinic cited "millions of dollars" in savings, though it declined to say if it met the 20% target.
The clinic did go on the record to claim $900 million in savings over the past five years from such re-engineering projects.
The chief of cardiovascular surgery observed afterwards: "We are a specialty with a lot of strong personalities who don't really embrace change …."
Speaking of "strong personalities who really don't embrace change", have you ever heard of a law firm or in-house counsel doing something like this?
Me neither (with rare exceptions like the one I describe below).
Aggregate spending on legal and regulatory compliance never goes down (see here and here). And — despite much talk — the legal profession hasn't actually adopted labor-saving technology (see my December 27, 2017 post).
…
When the Fortune 500's FMC Technologies appointed Jeffrey Carr general counsel in 2002, it spent $14.3 million annually on inside lawyers and outside law firms. Unlike almost all other general counsels — Carr had P&L experience running a substantial business.
By 2013 – Carr had cut legal spending to $9.5 million.
Impressive (and rare).
Even better: He did this simultaneously with 4X revenue growth.
How? First, he stopped paying law firms by the hour and paid them by the task — from 80% of fees based on hours billed down to 5%. The remaining 95% he based on values for each task agreed in advance — with performance incentives and penalties for the law firms. What Carr called, "budgets with consequences".
Second, Carr was systematic about preventing liability before it arose (detailing his methods in two one-hour presentations, with slides, here and here — and in a dialogue with Patrick Lamb, a founder of Valorem — a law firm which never bills by the hour and bills solely by pre-agreed value of tasks).
…
What's the lesson for owners and executives who want better legal and regulatory results for less cost?
Your lawyers are just as capable of cutting costs while improving results as the Mayo Clinic's heart surgeons.
But — like those heart surgeons — your lawyers need management direction from outside their ranks.
Most attorneys — in law firms and in-house — embrace a business model whose dictates on compensation, work flow organization, and assignment of talent to tasks are so wasteful that no general manager would tolerate them anywhere else in the company.
Yet most companies simply delegate their purchasing power in legal and regulatory to those very lawyers.
As a company owner or executive you can take back that purchasing power so that cost control and quality of outcomes are no longer captive to a dysfunctional business model.
How?
First, get special legal counsel — on your side of the lawyer / client table — to be your objective, honest broker of the expertise otherwise possessed solely by your law firm(s) or in-house attorneys:
(1) Retained solely for the three-step reorganization process described below — not for day-to-day or ongoing work, and
(2) Independent of a law firm's billing quotas and cross-selling, and free from in-house counsel's duty to justify an installed base of salaried attorneys.
Second — with such special legal counsel's guidance — reorganize legal and regulatory compliance for the same cost control and other management standards that apply to every other part of your company:
(1) Diagnose your legal and regulatory vulnerabilities — protected by the attorney-client and work product privileges,
(2) Identify the right legal talent, at the right price, with labor-saving technology or alternative service providers, if applicable, and
(3) Renegotiate service terms with current law firms and / or in-house lawyers — or replace them — to remove the waste that their business model has put into your company's legal and regulatory work flows.
If owners and executives hope that their law firms or in-house counsel will restore cost control and other management disciplines on their own — they're likely to have a long wait.