Among law firms, the innovations in service delivery needed to help business clients do more to protect themselves from legal risk with less expenditure — just aren't happening.
So say the numbers in two recent studies. 
My own reading of those numbers: Law firms aren't innovating much in legal service delivery because they don't want to and don't see it as all that important. 
…
The first study — by the Altman Weil consultancy — surveyed lawyers in law firms who offered reasons why their firms were not changing the way that they deliver legal services. (Altman Weil polled Managing Partners and Chairs at 801 US law firms with 50 or more lawyers.  They received completed surveys from 398 firms (50%), including 45% of the 500 largest US law firms and 52% of the Am Law 200.) 
Here are those survey findings: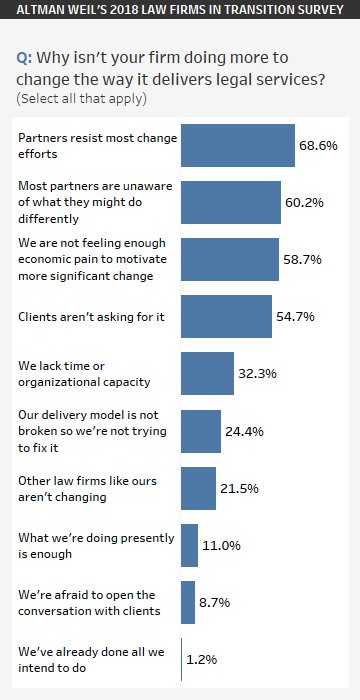 The second study  (by the Thompson Hine law firm) surveyed businesses. It posed questions to client companies about whether or not their law firms were innovating in service delivery. (They asked in-house counsel and senior executives from 176 large and small companies whether their external law firms are innovating.):
" … A majority reported seeing no or hardly any innovation. A plurality saw only a little. For 96% innovation was rare or nonexistent.
"Over the past three years, how much innovation have you seen from law firms?
None                     15%
Hardly any             38%
A little                     43%
A lot                        4%"
…
"We asked another question that invited a more granular response. Over the past three years, had law firms done anything 'significant and different' to help alleviate 'the pressures' that the in-house lawyers were facing? This was purposely broad, an invitation to sweep in anything significant.
"The response: 29% said they had received some assistance.
" … Fully 70% of clients could not cite a single example of 'significant' change over three years of work with their law firms."
…
There is of course more detail in each of these studies' findings. But you get the idea.
In an earlier post I described how Harvard Law School's Professor David Wilkins had announcement five years ago that the legal industry had entered "the Global Age of More for Less".
These two surveys — one reporting law firm lawyers' outlooks and the other reporting the client company perspective — find that law firms aren't responding to this urgent need.
Meanwhile the legal system's skyrocketing demands drive company budgets for lawyers persistently upward.
…
As a practicing lawyer I don't question that businesses need the legal analysis and advocacy of skilled attorneys.
But the legal system's proliferating demands aren't abating any time soon. And as someone who's served as a general manager I can think of a lot better uses of the P&L than payment of constantly increasing legal fees.
Law firms aren't solving the problem. And — as the second survey above found — the in-house departments find themselves unsuccessful in changing law firms' ways.
Business owners and executives need to step in and give their lawyers some firm direction on this. Because innovation — and therefore cost reduction — isn't coming from inside the legal industry itself.