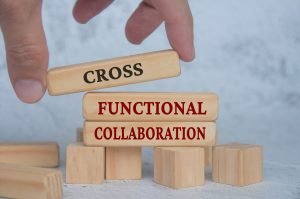 The Point
"It's nice to meet the newest member of our 'department of business prevention'."
The head of marketing greeted me with these words when I joined a Fortune 500 company as an associate general counsel.
That was in 1986. I don't think much has changed.
This Matters to Your Business
It's axiomatic that the order-to-cash cycle is basic to a company's health. It's also axiomatic that this cycle requires collaboration among the business unit booking the sale and various other corporate participants outside the Legal silo. But there's a problem: Legal does not always work-and-play-well-with-others in the enterprise.
Consider some recent survey data: Onit's 2023 Annual Enterprise Legal Reputation Report ("2023 ELR Report").*
On the positive side, internal clients of Legal departments (i.e., frontline employees in other corporate functions and business units) expressed deep respect for in-house counsels' knowledge of the law, and appreciated their concern for the business:
"As in the previous year's study, nearly four in five (78%) respondents continue to cite the top brand image of Legal as a trustworthy protector of the business who imparts good advice. Viewing Legal as a reliable, stalwart authority figure leaps to 85% in the United States."
Internal clients' approval of Legal on this point were mostly consistent between 2022 and 2023's surveys: United States (+1% in 2023), Germany (+2%), United Kingdom (-3%), and France (-8%).
But findings about frontline employees' views had a troubling, negative side:
"This 2023 edition of the ELR Report shows that Legal is facing its share of stress. Specifically, its relationships with its businesses. Concerns from internal clients about Legal's poor responsiveness, communication and collaboration are prevalent in the 2023 ELR Report ….
"The year-over-year sentiment of Legal decreases across all enterprise functions. Put another way, positive interactions with Legal fall by several percentage points for every function … Sales declines 30%. Procurement decreases more than 40%. Even Finance, a typically by-the-book-compliant ally of Legal, is down nearly 18% in comparison to 2022."
It's important to avoid painting with too broad a brush. Legal comes off as deficient in cross-functional collaboration, is criticized as a bottleneck in workflows, and gets mostly low marks for efficiency. But there are bright spots amidst various negative responses.**
Because …
The bottomline consequence of being hard to work with: 67% of respondents report there are times when they simply "bypass" Legal.
Corporate Legal's advice on draft language is indispensable. But contract *management* calls for just that: professional management skills.
By people who have shown that they're good at achieving tasks across corporate boundaries.
Neither of which appears to be true of lawyers.
Legal could conceivably contribute more positively to the sales process. But lawyers, however robust their capabilities at analysis and advocacy in law, are not proficient in running the contracting process. To organize and operate this process, senior management should find an executive who has proven herself / himself in another corporate function or business unit. Or consider someone from the emerging "legal operations" profession to do the job.  
* Onit, a leading provider of legal enterprise management software, commissioned Provoke Insights, a New York City-based market research firm, to survey, 'the brand image of corporate legal departments in the eyes of internal clients and the ability to materially impact their businesses — from growth and revenue generation to profitability and operational efficiency.' Conducted in November, 2022, this survey questioned 4,000 enterprise employees who were not legal professionals, and 500 corporate legal professionals — in the United States, the United Kingdom, France, and Germany. This after a similar survey taken the previous year.
** "For the second year in a row, nearly three in five (59%) respondents do not consider Legal particularly efficient. Efficiency rates fell by three percentage points YoY in France (48% to 45%), three in the United Kingdom (42% to 39%) and six points in Germany, from 41% to just 35%. Although the perception [of Legal being efficient] grew in the United States by 10 percentage points, it is still less than half (44%) of respondents who perceive Legal as efficient. Many view Legal as a 'bottleneck'. Respondents in the United Kingdom note the legal department as 'adding unnecessary roadblocks.' In Germany, corporate employees report that they 'simply expect to experience holdups' when interacting with legal teams."