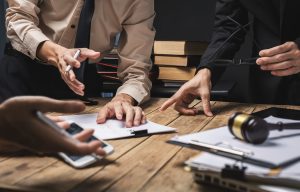 Three and a half years after my earlier post describing their work, lawyers Nicole Auerbach and Patrick Lamb continue to transform pricing and service delivery for corporate clients at their law firm, ElevateNext.
Together with their affiliated law company, Elevate Services, they are making some history.
Here's how Reuters put it on January 13:
"Elevate, which bills itself as a 'law company' serving legal department and law firm customers, said on Thursday the license from the Arizona Supreme Court unifies Elevate and its affiliated law firm ….
"Nicole Auerbach, who leads ElevateNext services, said the move allows the unified entity [Elevate Services and ElevateNext] to directly handle all of its work for customers and provide 'lawyer-led' capabilities that pair with Elevate [Service's] technology and consulting services.
"Companies not owned by lawyers typically can't practice law in the U.S. due to ethics rules that bar 'nonlawyers' from holding economic interest in law firms or sharing fees with lawyers.
"Arizona was the first state to eliminate the prohibition, clearing the way in August 2020 for co-ownership of businesses that offer legal services through the ABS arrangement requiring court approval."
…
Unlike Arizona's Supreme Court (and Utah's), most state bar authorities in the U.S. still jealously guard lawyers' monopolies over even partial ownership of a law practice. This bars Big 4 accounting firms and other multidisciplinary practice groups from offering legal services in those U.S. states (in contrast to Canada, the U.K., much of Western Europe, Singapore, Australia, and Japan).
Ironically, those state bar authorities effect this cover against unwanted competition in the name of "ethics".
Nevertheless, Nicole Auerbach and Patrick Lamb founded their path-breaking law firm in 2008 — pricing legal engagements upfront, often with some sort of success fee incentive — and rejecting billable hour pricing.  They have been consistent and persistent since then, now having broken — in one state at least — the U.S. legal profession's protectionist regulatory wall.