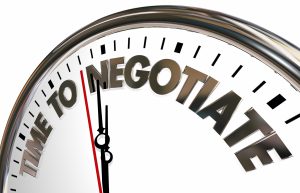 The Point
Purchasing power is the single most potent form of leverage available to a company that wants to keep law firm fees within manageable bounds. But passive acceptance — not robust negotiation — is corporate Legal's typical response to law firm price demands.
In the 1st Quarter of 2023, predictions of the largest law firm rate increases in 15 years abound — see here ("Those Predicted Big Biglaw Rate Increases? They're Going To Be Bigger" / Above the Law 1.19.2023 — 7-8% increases in 2023), here ("Raising Billing Rates in 2023 Becomes 'Singular Focus' for Law Firms" / Law.com American Lawyer Media 11.22.2022 — 7-8% increases in 2023), and here ("Rising Rates are Law Firms' Salve Amid Layoffs, Pay Cuts" / Bloomberg Law 1.19.2023 — 8% increases in 2023).
2023 is not the year for your company's Legal function to be pushed around in such rate negotiations. Those who bargain on behalf of your company should do so keenly aware of market demand vulnerabilities now facing law firms on the other side of the table from them.
This Matters to Your Business
Consider the 2023 Report on the State of the Legal Market, issued today by the Center on Ethics and the Legal Profession at Georgetown University Law Center and the Thomson Reuters Institute issued January 9, 2023. Jean O'Grady, expert on law firm operations, summarizes this voluminous report:
"Multiple factors threaten profitability, including falling demand and productivity, rising expenses, shifting client outlooks, and inflation
Midsize firms show strength amidst market demand shifts
Profits-per-equity partner down for the first time since 2009."
Following flush years for law firms after the 2008 to 2009 financial crisis, circumstances in 2023 reflect tough going for them, despite spunky, perhaps reckless, talk of rate rise demands they intend to make of client companies.
Because …
None of this means anything helpful for client companies' Legal cost disciplines if leaders roll over when law firms play the bully with them.
And in negotiating aggressively with law firms, the client company needs to have data to back up its claims about what does — and does not — constitute reasonable law firm fees.
This past Wednesday, Nathan Cemenska, J.D. and M.B.A, of Wolters Kluwer, an information services company that has collected data on $160 million of corporate legal spending, hosted a webinar entitled "LegalVIEW Insights 2023-1: Law firm rate increases".
Using the Wolters Kluwer data, Cemenska demonstrated that there is no necessary correlation between being a high-volume customer of a specific law firm and getting a lower rate than those who engage that firm infrequently. The numbers show that law firms don't charge lower rates to those clients whose payments are higher. There is no correlation.
Mr. Cemenska calls this "unused leverage", which could have — but did not — benefit high-volume customers on pricing if they had only sought to leverage their purchaser power in bargaining over rates. One of the webinar's main takeaways: Few client companies are systematic about deploying their purchasing power in rate negotiations.
Tiffani Hamilton-Huynh and Stacy Lettie, in charge of the legal operations functions at DHL Supply Chain and Adtalem Global Education, respectively, presented at Mr. Cemenska's webinar. Each described how it was them, not the lawyers in their law departments, who had sole negotiation duties with respect to law firm rates. They played, as each put it, the "bad cop" in such talks. For powerful bargaining. Resulting in Legal cost discipline for their respective companies.